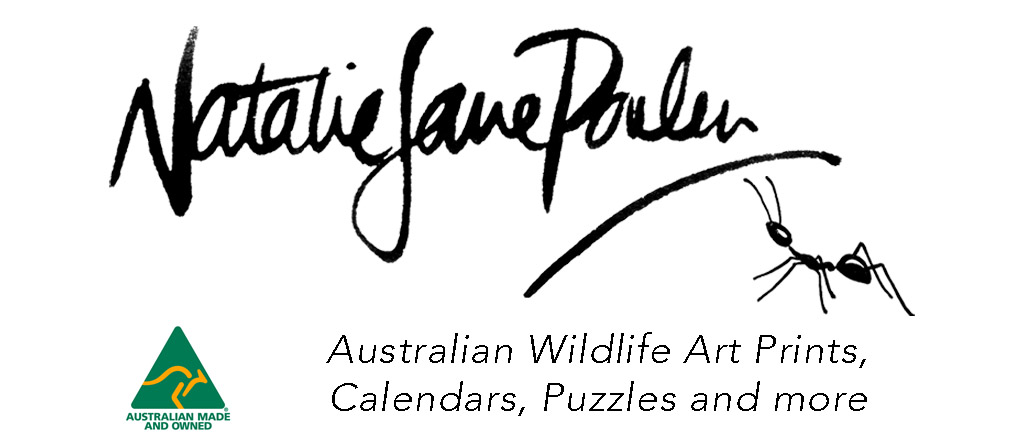 Dec 2021 Live Art Show
We are conducting a live art show on Wednesday 8 December at 11am AEDT.

Natalie and John will be showing you a wide range of Natalie's art that is in stock and available for immediate Courier or Express shipping so you have it in time for Christmas.

There is limited stock and all items are first come first served. So if you want to buy something, do it quickly before someone else beats you to the punch.

We will sell out.
#1 Colourful Chatter - Fine Art Canvas 60x25cm

Colourful Chatter - Fine Art Canvas 60x25cm

Ready to Hang

Sold

#2 Centre of Attention - Fine Art Canvas 30x25cm

Centre of Attention features a sulphur-crested cockatoo, an Australian magpie, three eastern rosellas and a Red-eyed tree frog.

Ready to hang canvas 30x25cm

Sold

#3 Bush Chatter - Hand embellished fine art canvas

This is a one of a kind fine art print that has then been hand painted by Natalie to add new and additional details.

Best of both worlds an original new artwork for just a little bit more than a canvas print.

Artwork is 45x30cm and features a Common Wombat With Male Superb Fairy Wren

Sold

#4 The Favourite Tree - Hand embellished fine art canvas

This is a one of a kind fine art print that has then been hand painted by Natalie to add new and additional details.

Best of both worlds an original new artwork for just a little bit more than a canvas print.

Artwork is 35x30cm and features a Common brushtail possum

#5 Sleeping Soundly - Hand embellished fine art canvas

This is a one of a kind fine art print that has then been hand painted by Natalie to add new and additional details.

Best of both worlds an original new artwork for just a little bit more than a canvas print.

Artwork is 30x35cm and features a Common Wombat.

#6 Moonlight Viewing - Fine Art Paper 225x300mm

Moonlight Viewing - Fine Art Paper 225x300mm

Barn Owl

Sold

#7 Aussie Greeting - Fine Art Paper Print 350x280mm

Aussie Greeting - Fine Art Paper Print 350x280mm

Juvenile Koala And Superb Fairy Wren Natalie Jane Parker Australian Native Wildlife

#8 Kings Branch - Fine Art Paper Print 300x230mm

Kings Branch - Fine Art Paper Print 300x230mm
Male Australian King-Parrot with Eastern dwarf tree frog

Sold

#9 Country Lifestyle - Fine Art Paper Print 450x600mm

Country Lifestyle - Fine Art Paper Print 450x600mm

Featuring Australian Magpies

#10 Cockatoo Calling - 295x440mm

Cockatoo Calling - 295x440mm

Yellow-tailed black cockatoos

#11 Tropical Encounter - Fine Art Paper 200x330mm

Tropical Encounter - Fine Art Paper 200x330mm

Male Eclectus Parrot and Ulysses Butterfly Natalie Jane Parker

Sold

#12 Banksia Friends - Fine Art Paper 450x230mm

Banksia Friends - Fine Art Paper 450x230mm

Eastern Rosella Natalie Jane Parker Australian Native Wildlife

#13 Flying Fox Limited Edition Fine Art Paper Print A4 size

Both are limited edition price is for one unit, No2/50 or 3/50.

Sold

#14 Colourful Chatter - Fine Art Paper Print 450x205mm

Colourful Chatter - Fine Art Paper 450x205mm

Rainbow Lorikeet Natalie Jane Parker Australian Native Wildlife

#15 Cootamundra Calling - Fine Art Paper 400x200mm

Cootamundra Calling - Fine Art Paper 400x200mm

Major Mitchell's cockatoo in Cootamundra Wattle | Australian Native Wildlife

Sold

#16 Happy Quokka - Fine Art Paper 210x300mm

Happy Quokka - Fine Art Paper 210x300mm

Quokka Pencil Drawing

#17 In the shade of the Lilly Pilly's - Fine Art Paper 180x305mm

In the shade of the Lilly Pilly's - Fine Art Paper 180x305mm

Male King Parrot Natalie Jane Parker Australian Native Wildlife

#18 Small Original Artwork - Eastern dwarf tree frog in Liilly pilly

Original Artworks approx 12x16cm

#19 Small Original Artwork - Golden Wattle

Original Artwork approx 12x16cm featuring Golden Wattle.

Sold

#20 Small Original Artwork - Blue Damselfly - Dragonfly

Small Original Artwork - Blue Damselfly - Dragonfly approx 12x16cm

Sold

#21 Banksia Friends - Ready to Frame - Mounted & Matted Print

These ready to frame prints are matted and mounted and made to be inserted into an off the shelf 11x14 inch frame.

#22 Colourful Chatter - Ready to Frame - Mounted & Matted Prints

These ready to frame prints are matted and mounted and made to be inserted into an off the shelf 11x14 inch frame.

Sold

#23 Golden Life - Ready to Frame - Mounted & Matted Print

These ready to frame prints are matted and mounted and made to be inserted into an off the shelf 11x14 inch frame.

#24 Mystery Print Pack

Each Mystery Print Pack contains at least 4 postcard sized fine art prints. Each pack includes a random selection of Natalie's art and has a minimum value of $199.

There are just 10 of these packs available.

Sold

#25 Large Portrait Calendars 2022 - Express Shipping Limited Stock

Large Portrait Calendars 2022 - Express Shipping Limited Stock

Sold

#26 Large Standard 2022 Australian Wildlife calendar - Express Shipping Limited Stock

Large Standard 2022 Australian Wildlife calendar Express Shipping

Sold

#27 Colourful Chatter - Fine Art Paper 400x185mm